Editor's note: University of Michigan junior Ellora Gupta is writing a regular summer series called "Passionate People." Her goal is to inspire others and her column will cover uplifting stories about Ann Arbor locals who are striving to achieve their goals and passions.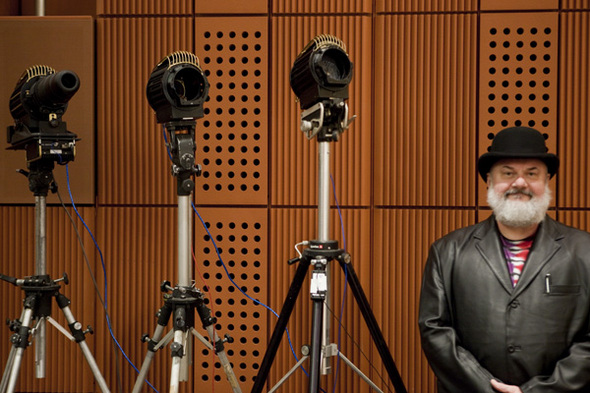 Mike Gould has a very unique passion: playing with lasers. As a member of Illuminatus 2.1, he puts together laser shows.
"Illuminatus 2.1, a laser light show, is the driving creative force for my life," Gould said.
The history of Illuminatus stretches back to 1972 when Gould began constructing laser devices as a hobby with partner Wayne Gillis. Gould calls this period of time "Illuminatus 1.0," during which they performed very basic light shows using one laser.
"We did light shows up through the 70s," he said. "It kind of petered out because, really, the only place you could do light shows was in discos, and we were not into disco."
During the 80s and 90s, however, Gould found it difficult to popularize the lasers.
It was not until 2009 that Gould resumed his activity with the laser light shows. He was asked to perform at Penguicon, an open source software convention. This was the beginning of Illuminatus 2.0, during which he built the first generation of laser lunchboxes: laser devices that had been embedded into metal lunchboxes and could be projected out from within.
"We had to put (the lasers) into a metal box for protection," Gould explained. "In searching for cheap metal boxes, this idea came to me. So we found a bunch of lunchboxes on eBay. They were just the right size to hold a device."
Gould said that unique idea was what got the ball rolling for him and his team. After writing an article for Make magazine about his lunchbox lasers, he was sponsored by eBay to attend Pop Tech, a technology conference in Maine. There, he demonstrated his laser show.
"We thought it was pretty hard to aim a lunchbox," he admitted. "We decided they were too hard to use in performance so I thought about what light source can you aim. Obviously stage lights came to mind so we started building up these antique stage lights."
This was the beginning of Illuminatus 2.1, Gould's current project. Working with partners David Bloom, Wayne Gillis and Steve Rich, he prepares music and psychedelic imagery for the laser lights shows. He then projects these images and aims the lasers on the walls and ceilings of the venue to create a light show with music.
"It is our goal to have much more control over what the lasers are projecting such that we can have a closer integration between the musical aspects and the visual aspects of the show," he explained.
From childhood, Gould was fascinated with building technology.
"When I was five years old, I got a crystal radio kit," he recalled. "So I built a crystal radio and all of a sudden I could listen to a radio."
Passionate People
Mike Gould
Age: 61
Hometown: Ann Arbor.
Occupation: Laserist, commercial photographer, web designer, technical writer, musician.
The story: Mike Gould talks about his unique interest in laser light shows and the history of his project, Illuminatus 2.1.
This passion continued throughout high school where he built audio and electronic devices, as well as an entire recording studio. Later, he attended Kalamazoo College and majored in biology. After graduation, he worked at the University of Michigan as a Macintosh computer expert. He retired from that job to pursue his passions with lasers and other interests.
Currently Gould is working on a marketable laser lunchbox. He has a shop in his garage where he has learned to cut, drill and polish aluminum for portable lasers that he and the team are looking to sell.
"It's the lava lamp of the 21st century," he said.
Gould said that he and the team have been receiving more publicity about their shows and lasers. He hopes that in the future, he could connect with other laser enthusiasts and make Illuminatus more popular to people.
"I'd like to have a big laser light show where everything is controllable and has artistic merit," he said. "After all, the motto of the laser light show is 'lux plus esto' which is Latin for 'let there be more light.'"
Ellora Gupta is a junior at the University of Michigan with a strong interest in passionate people. If you want to share your passions or the passions of others, please contact her at egupta@umich.edu.
Source :  annarbor.com